Boston Area Optometrist Named Davis Vision's Provider of the Year
PLAINVIEW, N.Y. (April 15, 2010) - Davis Vision, one of America's leading vision benefits companies, has named Dr. Irwin Nathanson, a general and pediatric optometrist from Danvers, Mass., as its 2010 Provider of the Year.
Dr. Nathanson is the top-ranked provider in Davis Vision's national network of nearly 30,000 providers. His award is based on dedication to high standards, and the exceptional quality of care he provides to his patients, as measured by the results of patient satisfaction surveys and site visits conducted by Davis Vision's Quality Assurance program.
On Friday, April 9th, Davis Vision's Assistant Vice President of Professional Affairs, Dr. Daniel Levy, visited Dr. Nathanson to make the announcement and presented him with a plaque; a Volk Super field lens; a Reichert IOPac Handheld Pachymeter; and a trip for two to Vision Expo West in Las Vegas this October. Dr. Nathanson also received a congratulatory commendation by the House of Representatives of the State of Massachusetts and a commemorative plaque for his outstanding service to the community from the Mayor of Peabody.
"It is quite an honor to receive this award from Davis Vision," said Dr. Nathanson. "All patients in my office are treated equally and I believe it is a privilege to be able to help all patients achieve the best vision they can."
A Davis Vision provider since the early 1980s, Dr. Nathanson has been practicing for over 35 years and is a member of the New York Children's Vision Coalition. He graduated from the Massachusetts College of Optometry (now the New England College of Optometry), and returned to his alma mater where he achieved the rank of Associate Professor of Optometry and taught for 21 years. Dr. Nathanson has also contributed extensively to professional journals and has an interest in vision therapy and vision development.
In addition to his professional accomplishments, Dr. Nathanson is heavily involved with the community. The Landmark School for Learning Disabilities has benefited from his expertise for 16 years, and he consults many other schools in the Boston area and on the North Shore of Mass. With four children active with sports and the community, Dr. Nathanson has spent many years working on school committees and devoting time to swim meets and the Special Olympics.
"Dr. Nathanson has demonstrated an exceptionally high level of care for all of his patients, with the philosophy that each patient deserves the best and should be treated equally," said Dr. Joseph Wende, Davis Vision's senior vice president of Professional Affairs and Quality Management. "We are pleased to honor him as Davis Vision's Provider of the Year."
In addition to Dr. Nathanson, 24 other vision care providers across the nation are being recognized for outstanding performance in Davis Vision's second annual provider recognition program.
About Davis Vision
Davis Vision is part of the HVHC Inc. group of companies, which also includes Viva International Group and Eye Care Centers of America. One of the nation's Premier vision benefits companies headquartered in Plainview, NY, Davis Vision has been providing comprehensive vision benefits for nearly 50 years, and currently serves more than 55 million individuals nationwide through an extensive blended network of nearly 30,000 ophthalmologists and optometrists, in addition to many opticians and top national retail providers. For more information about Davis Vision, visit www.davisvision.com.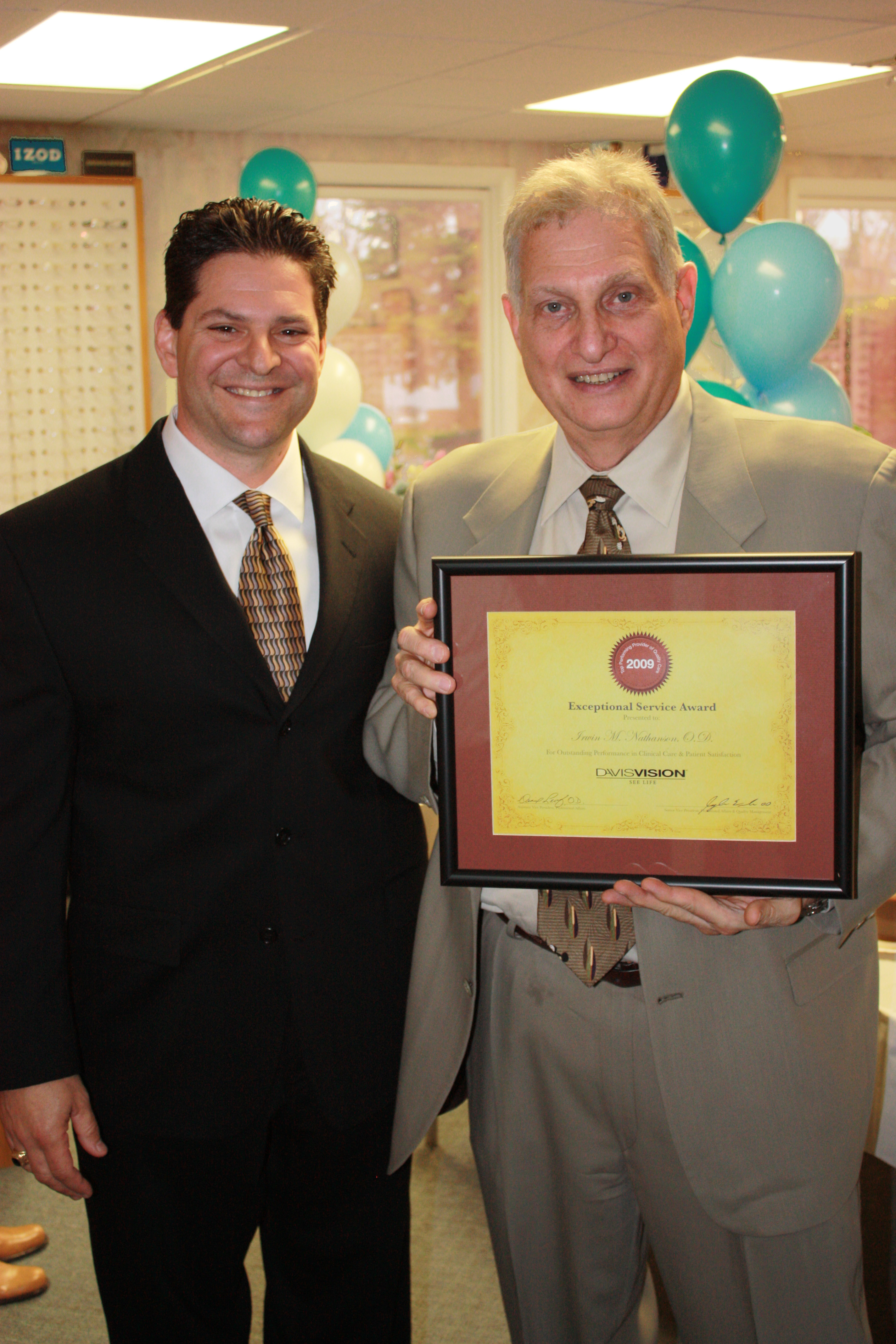 Dr. Daniel Levy, Davis Vision's Assistant Vice President of Professional Affairs, presents Dr. Irwin Nathanson with a plaque in honor of his 2010 Provider of the Year Award.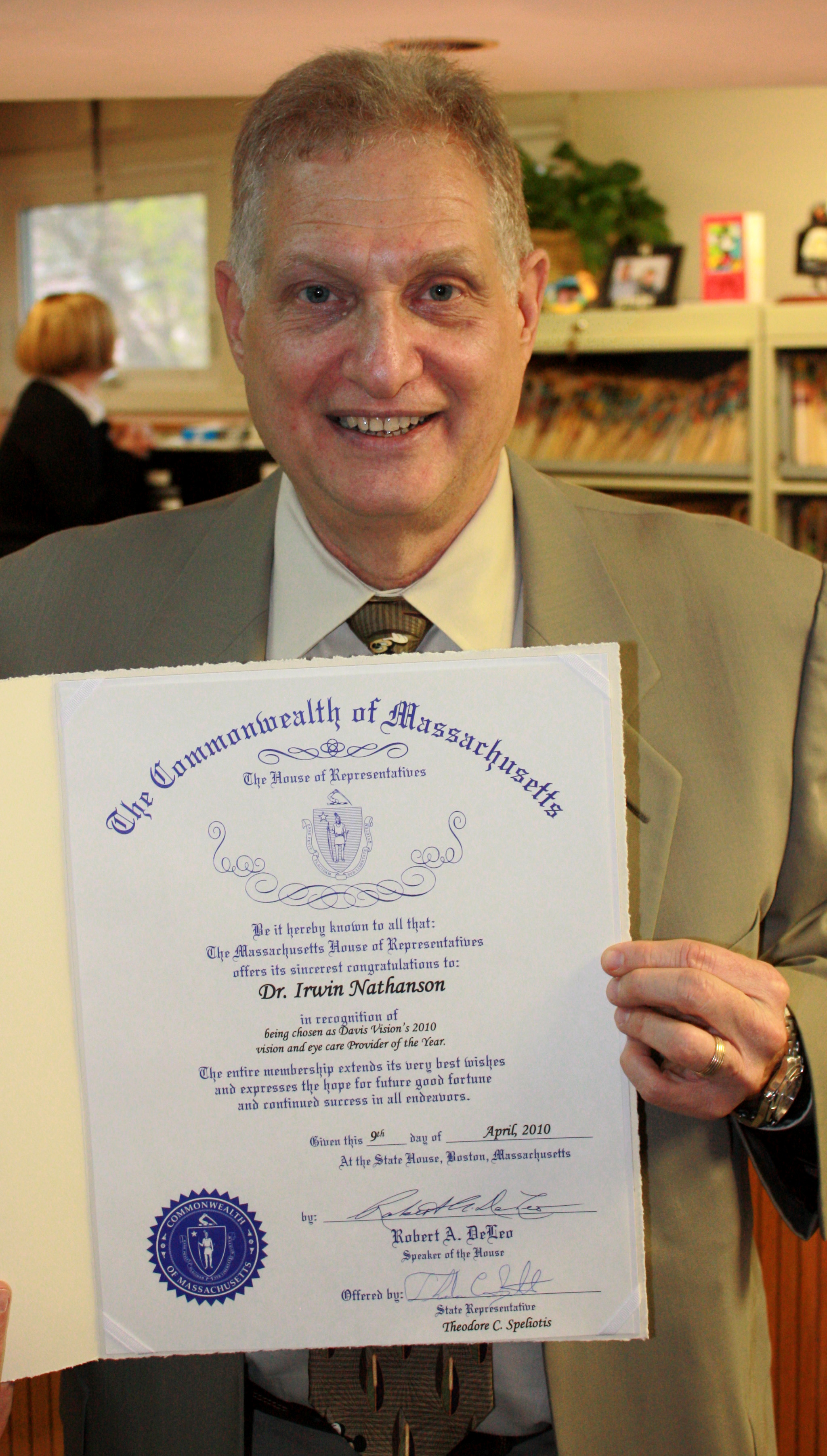 Dr. Nathanson poses with his commendation from the Massachusetts House of Representatives congratulating him on the award.
Read more about Dr. Nathanson's award in Vision Monday, the Jewish Journal, and the Salem News.